We are an official training site for the American Heart Association. We offer Advance Cardiac Life Support (ACLS) & Basic Life Support CPR/AED (BLS) for healthcare providers classes, and Heartsaver CPR/AED & First Aid classes for the general population.
We offer both a classroom setting and/or online classes with hands on practice and skills test. Either class format provides you with the highly accepted certification from the American Heart Association.
We have many classes open to the public through our open enrollment portal, and we also travel to locations for any group, organization or corporate training.
Our hands on approach, the quality of our Instructors, our schedule availability, and our 100% customer service approach, makes us the leader in AHA BLS, CPR, and First Aid training in NE Florida and SE Gorgia.
We are more than just a class, We are a Hero training center.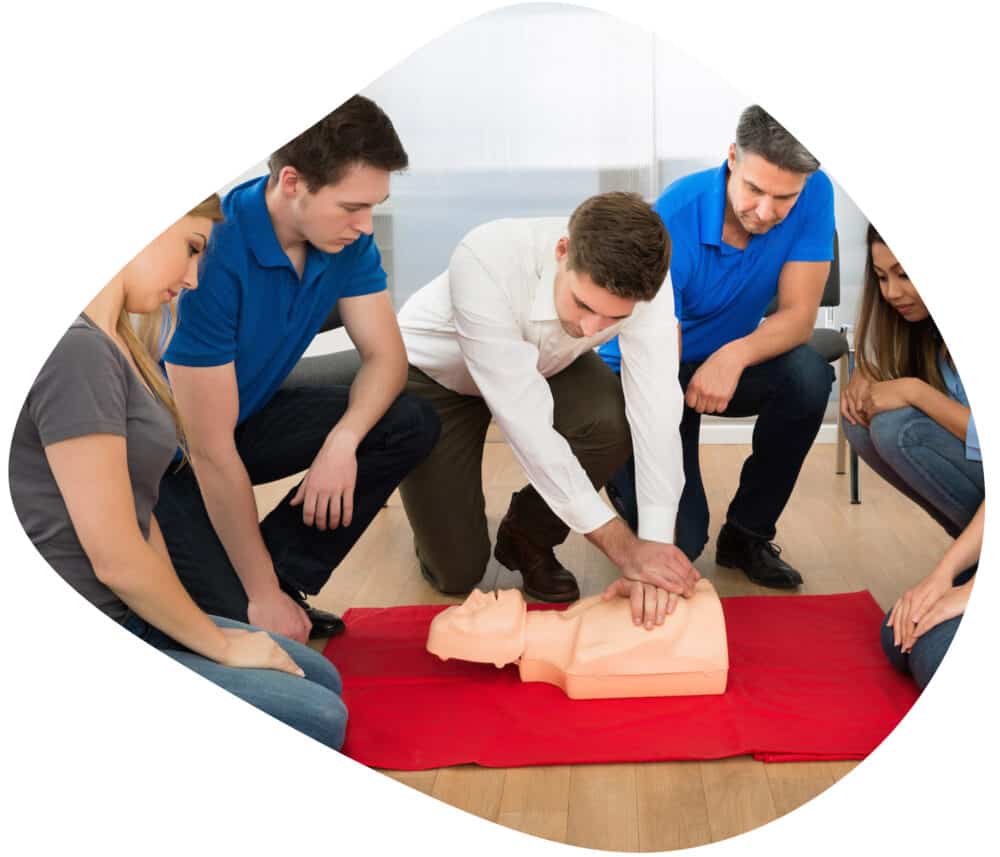 Our Most Popular AHA Classes
Choose one of our top training classes below to get started
Basic Life Support - BLS CPR/AED
Who Needs BLS CPR/AED:
Anyone working in the healthcare field or applying for a job in the healthcare industry.
Anyone applying for or in a college healthcare program such as Pre Med, Nursing, X-Ray Tech, CNA, PT, PTA, Pharmacy, LPN, RN, EMT, etc…
Advanced Cardiac Life Support - ACLS
Who Needs ACLS:
Healthcare professionals that are either leading or participating in cardiopulmonary arrest or other cardiovascular emergencies. This includes professionals in emergency medicine, emergency response, intensive care and critical care units.
If you need BLS you can add it when registering
Heartsaver CPR/AED & First Aid
Who Needs CPR/AED & FA:
Anyone in Security/Safety, Teaching, Community Safety, Construction, Boating and/or anyone who would like to learn these critical life saving skills needed to help while waiting for the paramedics to arrive.
This class is mostly for Personal Trainers,  Yoga Instructors, Teachers, and anyone who wants to learn CPR for personal reasons 
This class is mostly for anyone that needs a First Aid certification but already has their CPR certification. 
This is not a very common class. Call us at 904 778-5547 to help you schedule it.
"We are more than just a class, We are a
HERO

training center!"
Corporate classes and training
Our instructors bring their unique team-building experience to every class creating tangible experiences that help your employees work cohesively and efficiently in any workplace emergency.
We believe in hands on learning and that having fun keeps everyone engaged and open to learning.
first coast CPR Pledge to you
We are proud to share our Company Reviews.
Please read what our past students have to say about us, register for a class, and come and experience the best CPR class in North East Florida.

Abby Jones
14:13 10 Jul 20
If you're going to get certified, this is the only place to do it! Carlos kept us laughing while learning and made 3.5 hours fly by! I'm confident in my ability to assist now and will absolutely be going back for refresher classes! By far this was the best class ever!!!This class was very informative, and informational. Everything was explained, demonstrated and hands on to perfection! We all had a lot of fun! I Will take it again tomorrow if I can have the same instructor!!!!!!

Phyllis Batts
18:50 07 Jul 20
This class was so good. 3.5 hours went by so fast. I was engaged the entire time. Carlos is such a great instructor and so fun. Highly recommend! Great instructor for ACLS, great customer service!

🌟 🌟🌟🌟🌟 Best place to get your BLS certificate! Carlos is an awesome teacher and makes you want to participate. A really fun hands on class! 13/10 would recommend 🙂 I used First Coast Training Center to renew my BLS. Being a nurse, I have taken this class many times but this was my first at this facility. I highly...

After being a nurse for 30yrs, I actually found an enjoyable way to renew my BLS Certification!!! I left First Coast Training Center smiling from ear to ear, totally prepared to respond to any person requiring life saving CPR! Don't wait 30 years! Take my advice and schedule your class today. Even if you don't expire now- you will gain confidence and feel like you have gone to a comedy show!

Lynn Smith
14:49 04 Jul 20
Awesome class! I've taken many CPR classes but this was the most informative, I'll definitely be back to renew in two years! The instructor is amazing I learned more things that I didn't know I recommend everyone who need a cpr certificate go see him

In my 30yrs of being a nurse, this is the 1st time I've EVER left a BLS Certification class laughing! Who knew it could be informative and FUN!?! jamestina kamara
13:30 02 Jul 20
The best CPR/BLS class I've ever taken! The instructor was hilarious, yet did an amazing job at teaching. Would HIGHLY recommend!

Brittany Carpenter
12:33 02 Jul 20
The staff was very hospitable and knowledgeable. Carlos and Robert made the class fun and kept our attention. Fast paced but not too fast. This is the...

Thank you for a great class. Will definitely return for my next renewal. I really want to say of all the trainers Ive been to or held ( x instructor ), This was without a doubt one of the best instructors ive ever encountered. Carlos Tafur was without a doubt engaged, enthusiastic, and brought the same from everyone in attendance. He was patient when needed and stern when needed. He went out of his way to ensure we were all confident in our abilities. I would love to expand my skills and get back to teaching this wonderful class again. Any info towards gettong my instructors certification would be great. Thank youLouis WrightGuide, Ameilia Island Adventures

louis Wright
00:15 28 Jun 20
We had a great class. Instructor was very knowledgeable and the class moved fast. Will definitely be going back for my next renewal. Heather Manning
13:14 27 Jun 20

Amanda Hime
12:16 26 Jun 20

christina andrews omoso
14:23 24 Jun 20

Excellent instruction in a clean and friendly environment. Highly recommend. Kathy Tafuri
16:54 22 Jun 20
Excellent place, coach and with very good experience in the field of BLS and CPR I recommend this place to everyone who needs it, thanks

Javier Clemente
12:58 21 Jun 20