We are an official training site for the American Heart Association. We offer Advance Cardiac Life Support (ACLS) & Basic Life Support CPR/AED (BLS) for healthcare providers classes, and Heartsaver CPR/AED & First Aid classes for the general population.
We offer both a classroom setting and/or online classes with hands on practice and skills test. Either class format provides you with the highly accepted certification from the American Heart Association.
We have many classes open to the public through our open enrollment portal, and we also travel to locations for any group, organization or corporate training.
Our hands on approach, the quality of our Instructors, our schedule availability, and our 100% customer service approach, makes us the leader in AHA BLS, CPR, and First Aid training in NE Florida and SE Gorgia.
We are more than just a class, We are a Hero training center.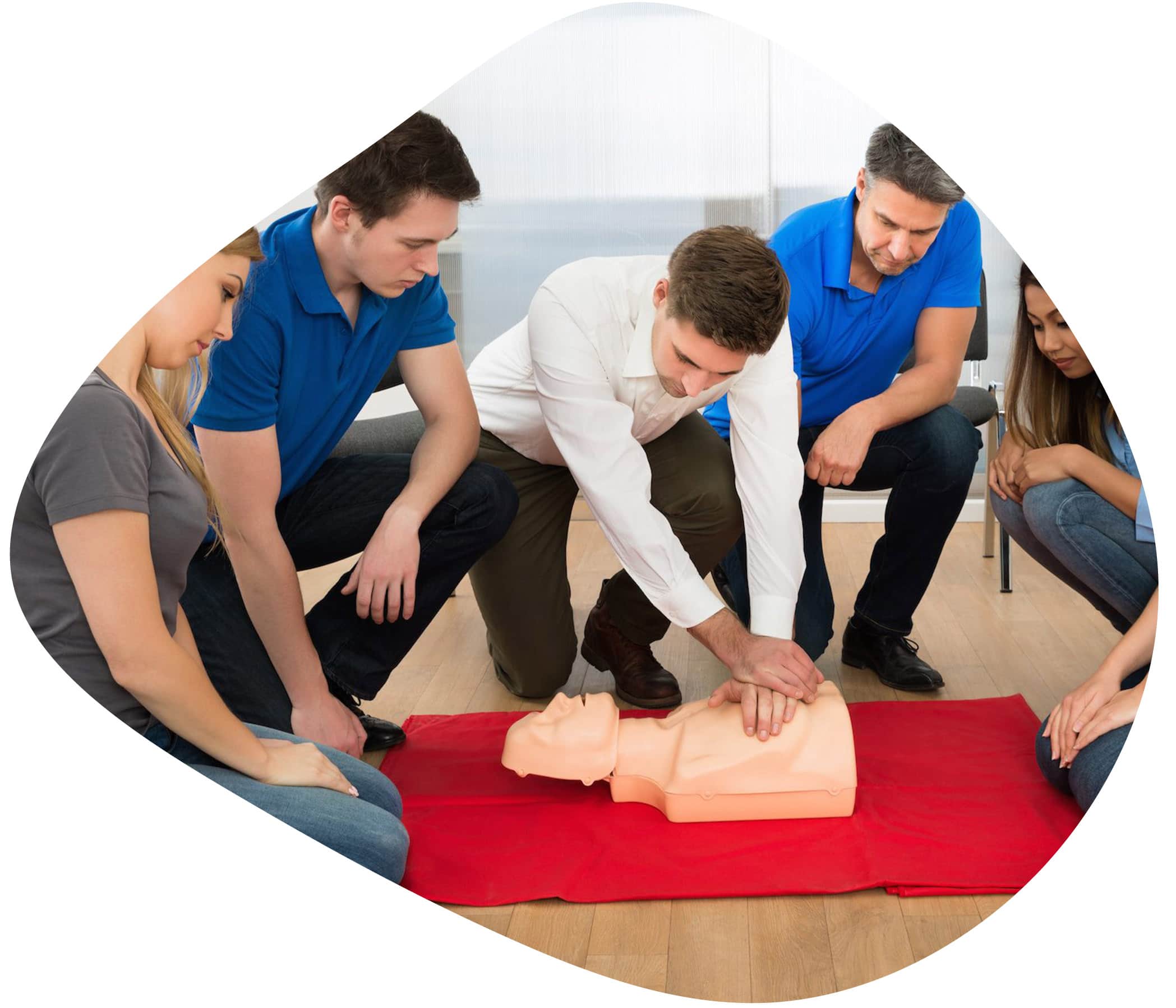 Our Most Popular AHA Classes
Choose one of our top training classes below to get started
Basic Life Support - BLS CPR/AED
Who Needs BLS CPR/AED:
Anyone working in the healthcare field or applying for a job in the healthcare industry.
Anyone applying for or in a college healthcare program such as Pre Med, Nursing, X-Ray Tech, CNA, PT, PTA, Pharmacy, LPN, RN, EMT, etc…
Advanced Cardiac Life Support - ACLS
Who Needs ACLS:
Healthcare professionals that are either leading or participating in cardiopulmonary arrest or other cardiovascular emergencies. This includes professionals in emergency medicine, emergency response, intensive care and critical care units.
If you need BLS you can add it when registering
Heartsaver CPR/AED & First Aid
Who Needs CPR/AED & FA:
Anyone in Security/Safety, Teaching, Community Safety, Construction, Boating and/or anyone who would like to learn these critical life saving skills needed to help while waiting for the paramedics to arrive.
This class is mostly for Personal Trainers,  Yoga Instructors, Teachers, and anyone who wants to learn CPR for personal reasons 
This class is mostly for anyone that needs a First Aid certification but already has their CPR certification. 
This is not a very common class. Call us at 904 778-5547 to help you schedule it.
Maintain Equipment, Stay Compliant, and Save Lives
It's no simple task to set up and maintain an AED program. EMC CPR Training & AED Program Management Service eliminates the burden.
Achieve compliance with local, state, and federal regulations.
Achieve compliance with local, state.
Get expert support for the selection and maintenance of AEDs.
Stay on top of your AED program.
We help you maintain your AED to ensure that it's always rescue-ready.
"We are more than just a class, We are a Hero training center!"
Corporate classes and training
Our instructors bring their unique team-building experience to every class creating tangible experiences that help your employees work cohesively and efficiently in any workplace emergency.
We believe in hands on learning and that having fun keeps everyone engaged and open to learning.
first coast CPR Pledge to you
We are proud to share our Company Reviews.
Please read what our past students have to say about us, register for a class, and come and experience the best CPR class in North East Florida.
This was a very informative and efficient process. My instructor was amazing, easy to work with, professional. I would recommend for certification and recertification. For sure.

Carlos was awesome! The greatest of all time. If you don't know, well you better know as soon as possible.

jonathon coronado
13:00 18 Nov 19

Samantha Morales
12:25 18 Nov 19

nwcintron cintron
17:28 16 Nov 19
Ty Happy Thanksgiving and Blessings everyone

First coast cpr class was so much fun , I almost didn't want for it to end. If ever you have to renew or get your cpr card for the first time this class is a hoot, you will absolutely LOVE😂 it here. Take my advice and go you will thank me for it. The instructor I had was Carlos he played music, made jokes kept everyone engaged in the conversation. I hardly notice length of time we were there, i th was just fun wish I could give more stars😆😆😆😆😆😆😆😆😆😆😆😆😆😆🥰.


Jasmine Glover
02:36 15 Nov 19
Very informative. And knowledgeable on day to day life!!! Aliyah Sims
22:39 13 Nov 19
I have been chasing for years to be CPR re-certified and it has NEVER been as much fun as it was this time around. The class was GREAT, the instructor is Extraordinary & the Lessons I've learned, I now use to teach my kids CPR. I'm ALWAYS prepared with the expectations of never using it (CPR).

Jay Turnquist
20:20 11 Nov 19

Wendy Thomas
17:44 11 Nov 19
Heather did an awesome job and was knowledge. She was very helpful to everyone! Thank you!

Krystyne Farthing
13:38 11 Nov 19
Attended a class last week at First Coast CPR and actually learned more than I expected to. I feel confident now too that if there is an emergency at the school where I work, I wont panic and will know what to do. The trainer was great! The instructor was engaging, fun and gave very thorough instruction! I learned a lot and feel confident putting my CPR skills to use if need be!

Elsie Robinson
18:11 10 Nov 19

Sara Bella
14:45 08 Nov 19

Ronnie Jones
17:26 03 Nov 19
Wonderful ACLS class!!! Due to small class size our instructor was able to focus on everyone and made learning and testing less stressful! The class room was very clean and comfortable, plus they have the latest equipment..... I will be back for my renewal!!!!!

Theresa O'Malley
17:08 03 Nov 19
They made learning less stressful and focused on everyone needs due to having small class sizes. The staff was helpful and friendly!!! They also have the...


Tojuan Hope
01:36 03 Nov 19
This is a really great place to go to if your new job requires a BLS certification, but I also recommend it to new parents because they do a great job teaching infant CPR.

Lily Tyler
19:52 02 Nov 19

Cassandre Charles
12:19 01 Nov 19
Thanks so much to Carlos for providing a wealth of information in such an engaging way.

Ken Utting
13:30 30 Oct 19
It was the first time in 25 years I actually enjoyed taking a cpr class. They make it fun while learning. Highly recommend

Angela Mccabe
12:48 30 Oct 19
This was a great and informative class! I learned so much more about CPR and how effective it can be in saving a life. The interaction in the class was on...


Charlene Gibbs
00:31 30 Oct 19