We are an official training site for the American Heart Association. We offer Advance Cardiac Life Support (ACLS) & Basic Life Support CPR/AED (BLS) for healthcare providers classes, and Heartsaver CPR/AED & First Aid classes for the general population.
We offer both a classroom setting and/or online classes with hands on practice and skills test. Either class format provides you with the highly accepted certification from the American Heart Association.
We have many classes open to the public through our open enrollment portal, and we also travel to locations for any group, organization or corporate training.
Our hands on approach, the quality of our Instructors, our schedule availability, and our 100% customer service approach, makes us the leader in AHA BLS, CPR, and First Aid training in NE Florida and SE Gorgia.
We are more than just a class, We are a Hero training center.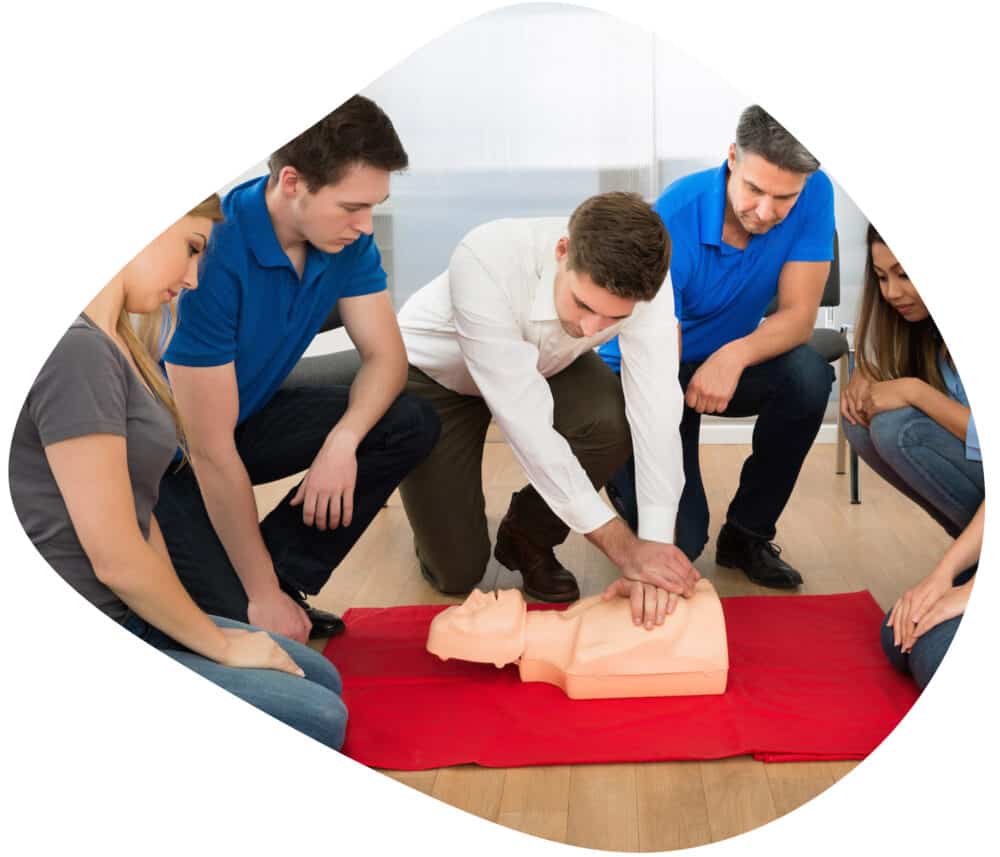 Our Most Popular AHA Classes
Choose one of our top training classes below to get started
Basic Life Support - BLS CPR/AED
Who Needs BLS CPR/AED:
Anyone working in the healthcare field or applying for a job in the healthcare industry.
Anyone applying for or in a college healthcare program such as Pre Med, Nursing, X-Ray Tech, CNA, PT, PTA, Pharmacy, LPN, RN, EMT, etc…
Advanced Cardiac Life Support - ACLS
Who Needs ACLS:
Healthcare professionals that are either leading or participating in cardiopulmonary arrest or other cardiovascular emergencies. This includes professionals in emergency medicine, emergency response, intensive care and critical care units.
If you need BLS you can add it when registering
Heartsaver CPR/AED & First Aid
Who Needs CPR/AED & FA:
Anyone in Security/Safety, Teaching, Community Safety, Construction, Boating and/or anyone who would like to learn these critical life saving skills needed to help while waiting for the paramedics to arrive.
This class is mostly for Personal Trainers,  Yoga Instructors, Teachers, and anyone who wants to learn CPR for personal reasons 
This class is mostly for anyone that needs a First Aid certification but already has their CPR certification. 
This is not a very common class. Call us at 904 778-5547 to help you schedule it.
"We are more than just a class, We are a
HERO

training center!"
Corporate classes and training
Our instructors bring their unique team-building experience to every class creating tangible experiences that help your employees work cohesively and efficiently in any workplace emergency.
We believe in hands on learning and that having fun keeps everyone engaged and open to learning.
first coast CPR Pledge to you
We are proud to share our Company Reviews.
Please read what our past students have to say about us, register for a class, and come and experience the best CPR class in North East Florida.

Lauren Witham
15:30 22 Oct 20
I must say it was the most fun and informative CPR class I have taken especially after a long work day...The German guy knows his stuff and I learned something new...he's great at what he does...keep up the good and I'd strongly recommend him again!!!❤️

Tye Maitland
14:47 22 Oct 20

Biccy Oyedola
12:28 22 Oct 20

Anita Starr
12:19 22 Oct 20
The class was awesome. The instructor Heather did an awesome job presenting the material and reviewing it before the test. I really enjoyed everything.

Latanya Johnson
14:01 20 Oct 20
They get to the point & make sure you're confident in your skills! The instructors are awesome & try & make the class as fun as they can 🙂

Emily Reeves
15:55 19 Oct 20

Tiffany Evans
14:16 18 Oct 20

theresa thane
02:13 16 Oct 20
They did a great job with the training. Definitely will use the same company to renew in a couple of years.

Iris Pierce
13:54 14 Oct 20

Tenisha Francis
03:26 12 Oct 20
The safety measures taken due to Covid were excellent!!! They lay out and organization in the training room was very professional. Heather the instructior did an amazing job demonstrating and explaining each step. I definitely recommend this class!

Tequila Newberry
14:56 09 Oct 20

Brishauna Conner
13:21 09 Oct 20
Awesome experience with Marco! Highly recommended!! Very knowledgeable and enthusiastic instructor Marco! highly recommend

Katie Tuverson
01:45 09 Oct 20
Very insightful and patient with helping a first timer like myself learning.

RICHARD GARCIA
18:24 08 Oct 20
I went there for my BLS training and it was amazing, I will gladly recommend to anyone if they ask me.

Cassie Loves
17:00 07 Oct 20

Lakesha Stewart
15:01 06 Oct 20
Really enjoy my experience it was my first ACLS Rachael did amazing job teaching from textbook to adding her personal experience in situations and the understanding of course. Thank you see you in 2 years!!

Terrence Darden
12:30 06 Oct 20

Charlotte Rowe
12:18 06 Oct 20

Kyron Petria Miller
16:22 05 Oct 20
Carlos is the best instructor @First Coast Training! This is my second time going for my BLS renewal course. He makes learning fun and engages whole class. You won't regret it!

Carlotta R
13:51 05 Oct 20
Excellent instructor and very informative BLS class. Took proper COVID precautions and feel confident in my skills after the course.

Marco was Amazing. I enjoyed the class and feel like I i was not drained while learning it. The pace was good, and even with COVID , he still managed to make the class enjoyable while distancing. If anyone needs a CPR certification, this place is for you!

Amari Bennett
14:13 03 Oct 20

Rami Kishek
17:53 02 Oct 20
The way this class is design and the way the teacher walk you through all this content it make acls easy. It was very helpful to me. Thanks!!

Ernesto Vilacha
14:31 02 Oct 20