We are an official training site for the American Heart Association. We offer Advance Cardiac Life Support (ACLS) & Basic Life Support CPR/AED (BLS) for healthcare providers classes, and Heartsaver CPR/AED & First Aid classes for the general population.
We offer both a classroom setting and/or online classes with hands on practice and skills test. Either class format provides you with the highly accepted certification from the American Heart Association.
We have many classes open to the public through our open enrollment portal, and we also travel to locations for any group, organization or corporate training.
Our hands on approach, the quality of our Instructors, our schedule availability, and our 100% customer service approach, makes us the leader in AHA BLS, CPR, and First Aid training in NE Florida and SE Gorgia.
We are more than just a class, We are a Hero training center.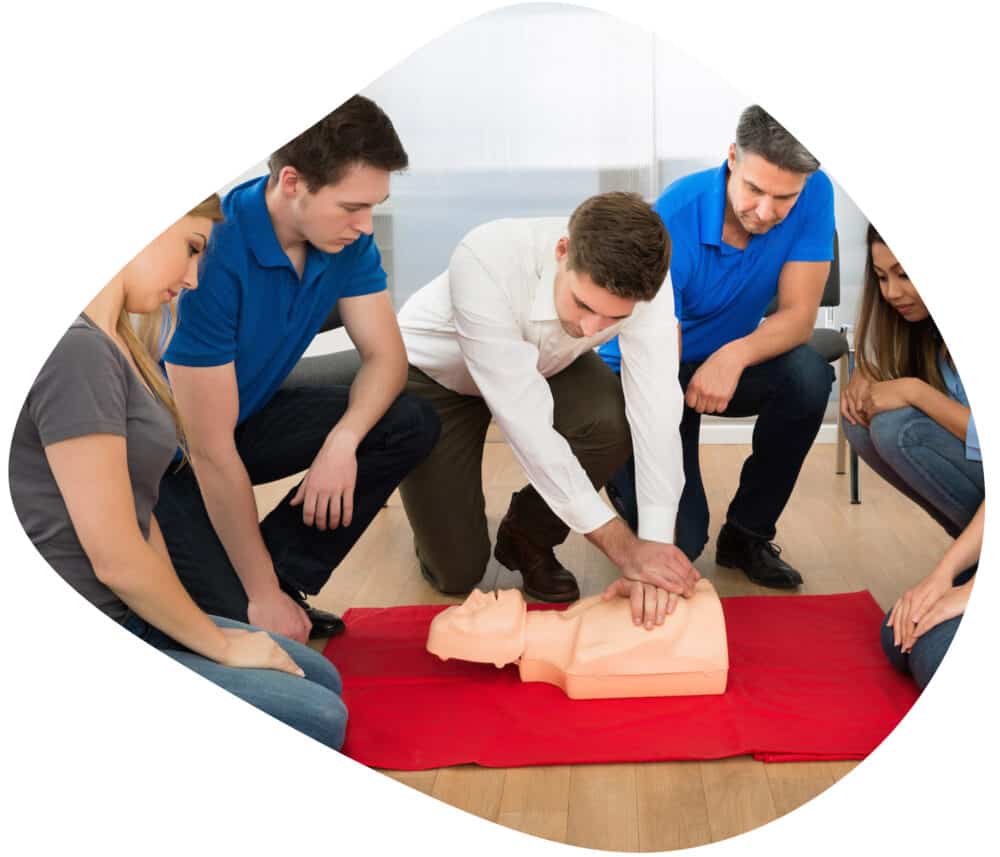 Our Most Popular AHA Classes
Choose one of our top training classes below to get started
Basic Life Support - BLS CPR/AED
Who Needs BLS CPR/AED:
Anyone working in the healthcare field or applying for a job in the healthcare industry.
Anyone applying for or in a college healthcare program such as Pre Med, Nursing, X-Ray Tech, CNA, PT, PTA, Pharmacy, LPN, RN, EMT, etc…
Advanced Cardiac Life Support - ACLS
Who Needs ACLS:
Healthcare professionals that are either leading or participating in cardiopulmonary arrest or other cardiovascular emergencies. This includes professionals in emergency medicine, emergency response, intensive care and critical care units.
If you need BLS you can add it when registering
Heartsaver CPR/AED & First Aid
Who Needs CPR/AED & FA:
Anyone in Security/Safety, Teaching, Community Safety, Construction, Boating and/or anyone who would like to learn these critical life saving skills needed to help while waiting for the paramedics to arrive.
This class is mostly for Personal Trainers,  Yoga Instructors, Teachers, and anyone who wants to learn CPR for personal reasons 
This class is mostly for anyone that needs a First Aid certification but already has their CPR certification. 
This is not a very common class. Call us at 904 778-5547 to help you schedule it.
"We are more than just a class, We are a
HERO

training center!"
Corporate classes and training
Our instructors bring their unique team-building experience to every class creating tangible experiences that help your employees work cohesively and efficiently in any workplace emergency.
We believe in hands on learning and that having fun keeps everyone engaged and open to learning.
first coast CPR Pledge to you
We are proud to share our Company Reviews.
Please read what our past students have to say about us, register for a class, and come and experience the best CPR class in North East Florida.
Great Class, Great Instructor Kosi

William Fassbender
18:22 20 Feb 20
The class was very good with details and hands on practice. Carlos made important points while making it very interesting as well.

Wayland Moore
17:29 20 Feb 20
I enjoyed this class. I love the fact everything was so hands on Gentiana Nelaj
15:50 14 Feb 20

Glorimar Santiago
13:19 14 Feb 20

Kari Garrett
19:42 13 Feb 20

Lamonda Clark
19:24 11 Feb 20
Carlos made it very fun and entertaining 😊 Sarah McCoy
13:31 10 Feb 20

Harriet Ackaah
13:20 10 Feb 20
This February was my second CPR class and it was just right. I learned a lot, and enjoyed the instructor, who has a sense of humor. The equipment and facilities are top notch. I highly recommend this provider.

Betty Brown
01:39 10 Feb 20
Best place for CPR/BLS classes!! Nikki and Tina were great!


Samantha Burns
17:24 07 Feb 20

Erika Watkins
13:50 07 Feb 20
Best cpr and bls class. The instructor was very nice and very professional 👍 enjoyed very much

Ken Deschler
02:33 07 Feb 20
Life saving training with a little fun to keep you engaged.

Micheal Mollinea
19:04 06 Feb 20

yarima suarez
21:40 05 Feb 20
Very Informative and helpful training, everything was demonstrated and explained as they worked one on one if need be : ) I would HIGHLY recommend First Coast Training Center!


Linda S. Kane
01:07 03 Feb 20

Latonia Maier
17:29 02 Feb 20
I had taken a CPR class many years ago, and I have never experienced a training such as this one. The gentleman that was giving the class was very motivated and that positive energy that he had, he projected it to all of us. I think you guys have a well trained personal that are capable of presenting this class in a very professional and fun way for people to love it. Thank you so much for this opportunity.

Miriam Rodriguez
16:38 02 Feb 20
Did my BLS renewal and class was informative yet fun, our instructor Chris was highly knowledgable, made the task of recertification fun. Will be back in 2 years! Erin Jennings
13:45 02 Feb 20

Jerry Deller
14:53 01 Feb 20
This was my third time attending my BLS certification/and or renewal and they continue to impress me. I love all of the new upgrades inside of the building. However, most of all I truly enjoyed my learning experience each time. Carlos and Marco both ROCK as instructors..

Latoya Moore
17:42 31 Jan 20